Experts from 60 countries discuss new development opportunities and Chinese-style modernization during CIIE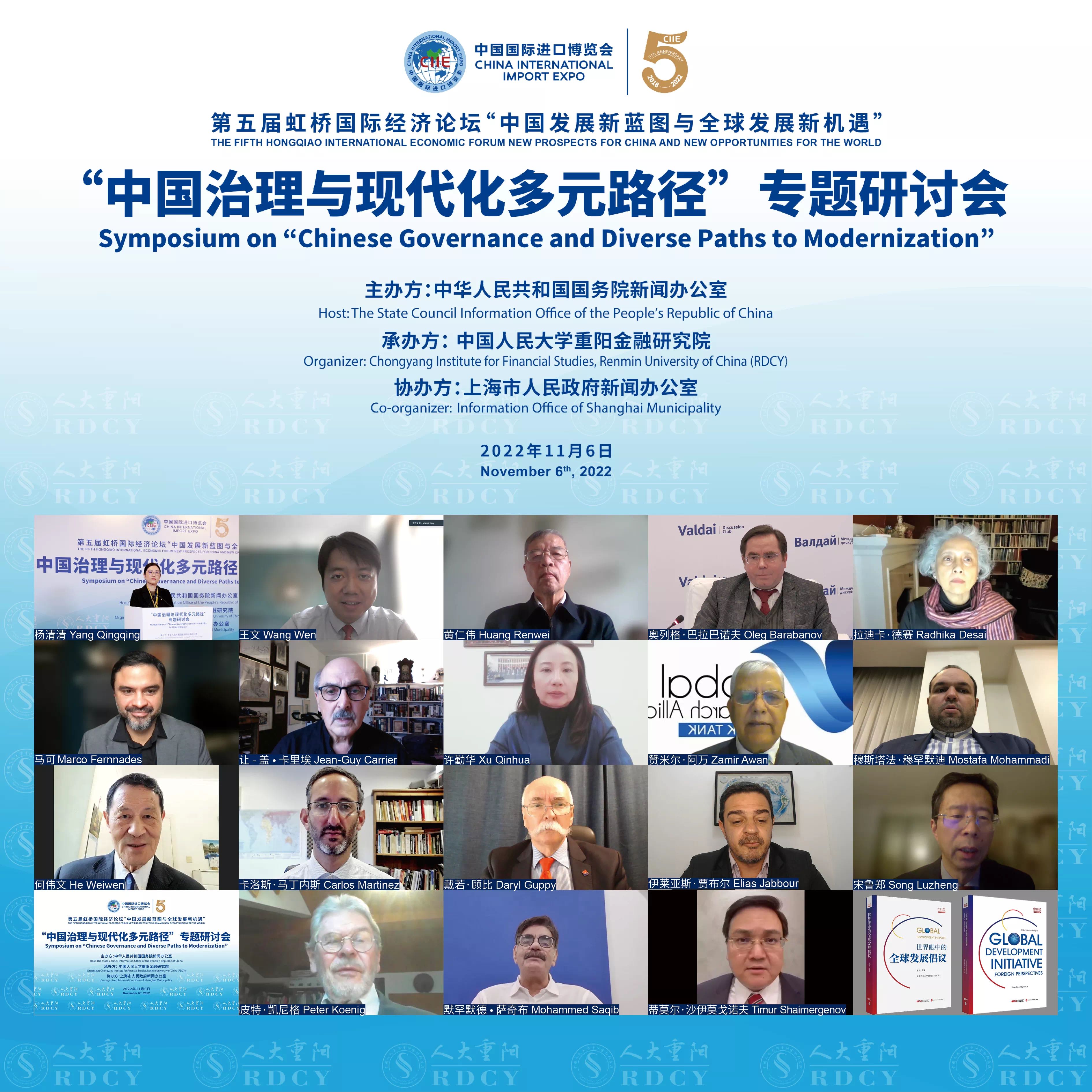 On November 5, 2022, the sub-forum "New Prospects for China and New Opportunities for the World" of the 5th Hongqiao International Economic Forum was held in Beijing. It is sponsored by the State Council Information Office of the People's Republic of China, organized by the Center for International Communication Studies of China National Academy of Governance, China Global Television Network (CGTN), China Center for International Economic Exchanges (CCIEE), and Chongyang Institute for Financial Studies, Renmin University of China (RDCY), and co-organized by the Information Office of Shanghai Municipality. Li Shulei, member of the Political Bureau, and Minister of the Publicity Department of the CPC Central Committee, attended and delivered a keynote speech. More than 200 Chinese and foreign representatives from nearly 60 countries and regions attended the conference online and offline. Almost all domestic mainstream media, including Xinhua News Agency, People's Daily, CCTV News, People's Daily Overseas Edition, Guangming Daily, Xinhuanet, People's Daily Online, and Chinanews, have reported on this sub-forum.
At the opening ceremony of the sub-forum, Jiang Peimao, director of the National Office for Philosophy and Social Sciences and secretary-general of the National Council of China Top Think Tanks, and Wang Yi, vice president of Renmin University of China, jointly unveiled and released a new book named "Global Development Initiative: Foreign Perspectives". This book, edited by Wang Yi, planned and translated by RDCY, brings together politicians and celebrities from 15 countries to discuss the "Global Development Initiative" proposed by President Xi Jinping. It is the first book on global development initiatives in China.
On 6 November, one of the four thematic seminars of the sub-forum, with the theme of "Chinese Governance and Diverse Paths to Modernization" hosted by RDCY, was successfully held with over 30 participants from 17 countries, both online and offline. Yang Qingqing, deputy dean of RDCY presided over the seminar.
Wang Wen, Executive Dean of RDCY, said in his opening welcome speech that the goal of modernization in the traditional sense is to learn from and follow the West. Thirty years ago, the American scholar Fukuyama proposed the "the end of history", arguing that the end of historical evolution is Western-style modernization. Today, however, thirty years later, there are multiple paths to achieve the modernization goals, including the four modernization development goals put forward after the founding of the People's Republic of China. They are industrial modernization, agricultural modernization, national defense modernization and science and technology modernization. In recent years, China has been advancing the pace of modernization, and the results are obvious to all. A very important key word in the report of the 20th National Congress of the Communist Party of China is "Chinese Path to Modernization", which has five characteristics, namely, a huge population, common prosperity for every one, balance between material and cultural-ethical progress, harmonious coexistence between humanity and nature, the path of peaceful development. These five points are based on China's national conditions and also contain the common characteristics of other countries' modernization, which point out the way for China's future development. As the person in charge of the organizer, Wang Wen expects Chinese and foreign panelists to speak freely at the seminar, express their insights, and jointly make suggestions for the development of China and the world.
In the first session of the panel discussion on "Chinese Governance and Global Development", Huang Renwei, Executive Vice Dean of Fudan Institute of Belt and Road & Global Governance; Oleg Barabanov, Programme Director of the Valdai Discussion Club, Russia; Radhika Desai, Professor, Department of Political Studies, University of Manitoba, Canada; Marco Fernnades, Research Fellow at the Three Continents Institute for Social Research; Jean-Guy Carrier, Former Secretary General, International Chamber of Commerce (ICC), Executive Chairman, Silk Road Chamber of International Commerce (SRCIC); Xu Qinhua, Vice Dean of National Academy of Development and Strategy, Executive Dean of Institute of Eurasia, Professor of School of International Studies at Renmin University of China; Zamir Awan, Deputy Director of Center for China Studies, National University of Sciences and Technology, Pakistan; Mostafa Mohammadi, Adjunct Professor and Researcher of Strategic Management in Shahid Beheshti University of Iran, spoke successively.
In the second session "Chinese Path to Modernization and the New Form of Human Civilization", He Weiwen, Former Economic and Commercial Counselor at Chinese Consulates General in San Francisco and New York, Senior Fellow of RDCY; Carlos Martinez, Co-editor, Friends of Socialist China, UK; Daryl Guppy, National board member of the Australia China Business Council, the Australian representative on the Silk Road Chambers of International Commerce; Elias Jabbour, Professor at the School of Economics at Rio de Janeiro State University, Brazil; Song Luzheng, Researcher of China Institute at Fudan University; Peter Koenig, Former Senior Economist of the World Bank, Switzerland; Mohammed Saqib, Secretary General, India China Economic and Cultural Council (ICEC); Timur Shaimergenov, Senior Research Fellow, China Studies Center, Astana City, Kazakhstan, shared their views.
The Hongqiao International Economic Forum is an important part of the China International Import Expo (CIIE), and has now developed into a high-end dialogue and exchange platform for the international political, business and academic circles. RDCY participated in the relevant preparations in the first year of the CIIE. In the past two years, it has successively participated in the supporting work of the Hongqiao International Economic Forum. On November 5-6, 2021, RDCY hosted a seminar on "Promoting Common Prosperity and Improving the Well-being of Mankind" in the "China's Modernization and New Opportunity for the World" sub-forum of the 4th Hongqiao International Economic Forum. It also released "China's Economy in the Post-pandemic Era: New Opportunities and New Future" research report in both Chinese and English has received widespread attention and recognition.