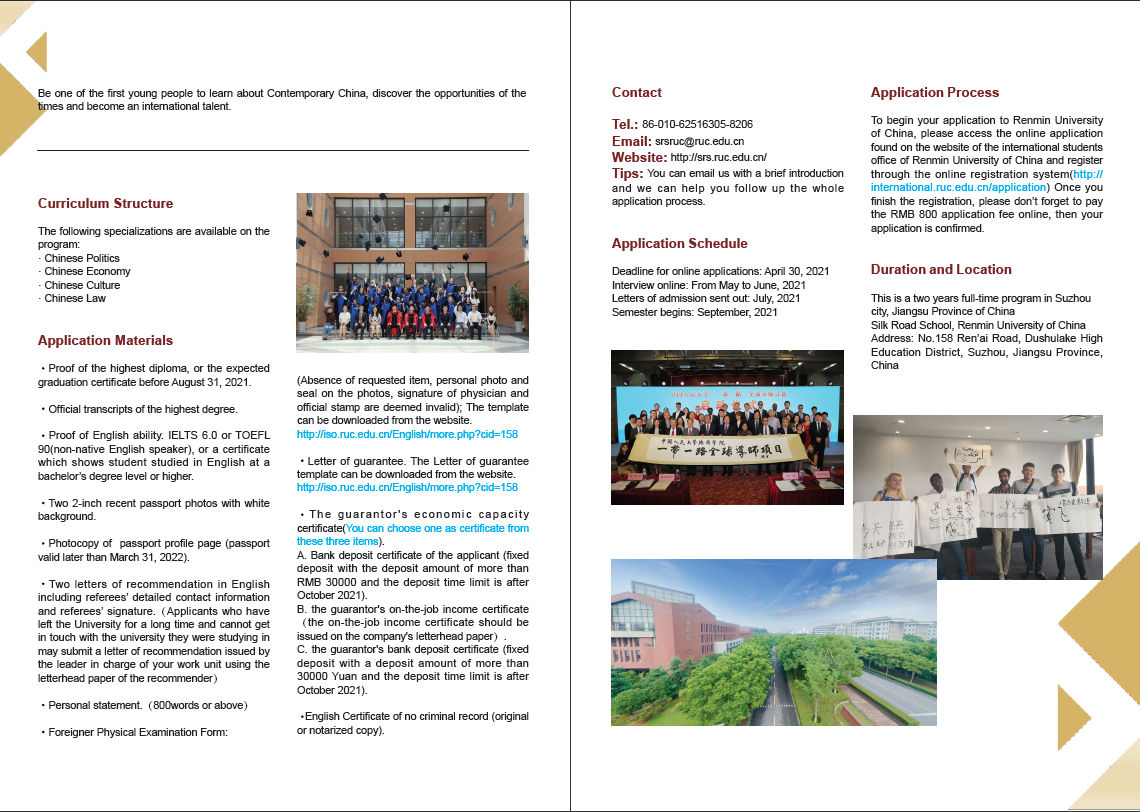 Explore China and become a successful global elitist with full scholarship !
Renmin University of China,Top 3 university in China
The student can enjoy interesting campus activities and free cozy student apartment.
The scholarship covers 2 years tuition fee, free dormitory.
Scholarship can cover :
Comfy accommodation; Wonderful campus life; Top quality faculty; Insurance
Be one of the first young people to learn about Contemporary China, discover the opportunities of the times and become an international talent.
Curriculum Structure
The following specializations are available on the program:
• Chinese Politics
• Chinese Economy
• Chinese Culture
• Chinese Law
Application Materials
•Proof of the highest diploma, or the expected
graduation certificate before August 31, 2021.
•Official transcripts of the highest degree.
•Proof of English ability. IELTS 6.0 or TOEFL 90(non-native English speaker), or a certificate
which shows student studied in English at a bachelor's degree level or higher.
•Two 2-inch recent passport photos with white background.
•Photocopy of passport profile page (passport valid later than March 31, 2022).
•Two letters of recommendation in English including referees' detailed contact information
and referees' signature.(Applicants who have left the University for a long time and cannot get
in touch with the university they were studying in may submit a letter of recommendation issued by the leader in charge of your work unit using the letterhead paper of the recommender)
•Personal statement.(800 words or above)
•Foreigner Physical Examination Form: (Absence of requested item, personal photo and
seal on the photos, signature of physician and official stamp are deemed invalid); The template
can be downloaded from the website. http://iso.ruc.edu.cn/English/more.php?cid=158
•Letter of guarantee. The Letter of guarantee template can be downloaded from the website.
http://iso.ruc.edu.cn/English/more.php?cid=158
•The guarantor'seconomic capacity certificate(You can choose one as certificate from these three items).
A. Bank deposit certificate of the applicant (fixed deposit with the deposit amount of more than
RMB 30000 and the deposit time limit is after October 2021).
B. the guarantor's on-the-job income certificate(the on-the-job income certificate should be
issued on the company's letterhead paper).
C. the guarantor's bank deposit certificate (fixed deposit with a deposit amount of more than
30000 Yuan and the deposit time limit is after October 2021).
•English Certificate of no criminal record (original or notarized copy).
Contact
Tel.: 86-010-62516305-8206
Email: srsruc@ruc.edu.cn
Website: http://srs.ruc.edu.cn/
Tips: You can email us with a brief introduction and we can help you follow up the whole
application process.
Application Schedule
Deadline for online applications: April 30, 2021
Interview online: From May to June, 2021
Letters of admission sent out: July, 2021
Semester begins: September, 2021
Application Process
To begin your application to Renmin University of China, please access the online application
found on the website of the international students office of Renmin University of China and register through the online registration system(http:// international.ruc.edu.cn/application) Once you finish the registration, please don't forget to pay the RMB 800 application fee online, then your application is confirmed.
Duration and Location
This is a two years full-time program in Suzhou city, Jiangsu Province of China
Silk Road School, Renmin University of China
Address: No.158 Ren'ai Road, Dushulake High Education District, Suzhou, Jiangsu Province, China
Please Find us: Twitter: RDCYINST YouTube: RealRDCY LinkedIn: 人大重阳RDCY Facebook: RDCYINST Instagram: rdcyinst