Source: China.org.cn Published: 2021-03-12
Scholars from China and the U.S. expounded their views on bilateral relations from different perspectives at a webinar on March 12. They agreed that the two sides should be committed to benign and healthy competition, and there is potential for the two countries to work jointly in many areas and improve global governance.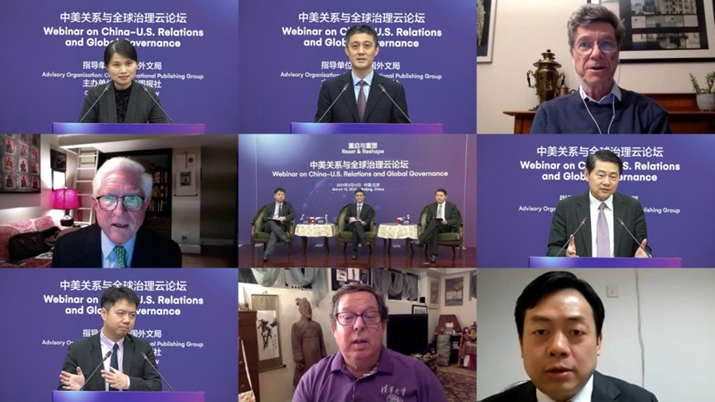 Scholars share viewpoints on China-U.S. relations and global governance at a webinar on March 12. [Photo courtesy of Beijing Review]
The webinar, themed Reset and Reshape--China-U.S. Relations and Global Governance, was hosted by Beijing Review, an English-language news weekly and a subsidiary of China International Publishing Group (CIPG), with the participation of scholars from both countries.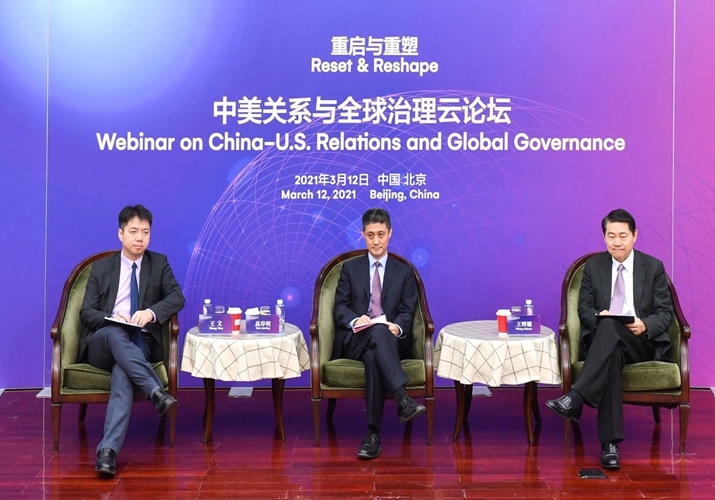 "Most people will not disagree that deteriorating China-U.S. relations will do no good to either country, neither to the world at large, Gao Anming, Vice President and Editor in Chief of China International Publishing Group (CIPG)," said in a keynote speech at the webinar. He holds that seeking common ground while shelving differences is of particular importance to the current state of the China-U.S. relations. "Both sides need to adopt an objective and rational perspective that focuses on areas of convergence rather than divergence," he said.
"We are in a much better situation than we were a few weeks ago," said Jeffrey D. Sachs, Professor and Director of the Center for Sustainable Development of Columbia University. Peter Walker, an expert on U.S.-China relations and former senior partner at U.S. management consultancy McKinsey & Co., echoed Sachs, saying that he is optimistic U.S. President Joe Biden will focus more on real areas of interaction.
With Biden, a "far more responsible, rational and empathetic person" compared with his predecessor, sworn in as the new president, there may be more practical cooperation concerning common interests between China and the U.S., Sachs said, calling for building a system "where cooperation starts within regions."
Rick Dunham, Co-Director of Global Business Journalism Program at Tsinghua University, said Biden might be tougher on certain issues than former President Barack Obama due to the growing anti-China sentiment in the U.S., but he would also focus on common interests as "no one is a winner if such tension continues."
Gao said that the China-U.S. relationship should not be driven by ideologies. "The important thing is therefore that neither should allow differences to dictate bilateral ties and hijack their common interests."
Sachs agreed with Gao, noting that the a lot of U.S. Democrats and Republicans think that the U.S. is only safe when it is fully dominant in the world and that anyone challenging U.S. primacy or dominance is therefore a threat to national security. "It is, in my view, a very dangerous idea to think that the only way the world is safe is if you are running the world," he added.
A scheduled meeting of Yang Jiechi, a member of the Political Bureau of the Communist Party of China (CPC) Central Committee and Director of the Office of the Foreign Affairs Commission of the CPC Central Committee, and State Councilor and Foreign Minister Wang Yi with U.S. Secretary of State Antony Blinken and National Security Adviser Jake Sullivan on March 18 in Anchorage, Alaska, the first face-to-face talks between the two sides since Biden took office, raises hopes of a long-anticipated start of warming bilateral relations, and will lay a foundation for follow-up negotiations, Wang Huiyao, President of the Center for China and Globalization (CCG), a Beijing-based think tank, said.
Gao suggested that the two countries should reinforce the mechanism of people-to-people exchanges and dialogue and need to move in the same direction to bring economic and trade relations back on the track. The semiconductor industrial associations of the two countries have decided to set up a working mechanism to coordinate their policies on information sharing, export management, supply chain safety and trade policies. "This fully demonstrates that economic and trade collaboration serves as a driving force of bilateral relations and has brought tangible benefits to both sides," Gao said. Despite the extremely unfavorable conditions last year, bilateral trade reached $630 billion, up 8.8 percent from 2019.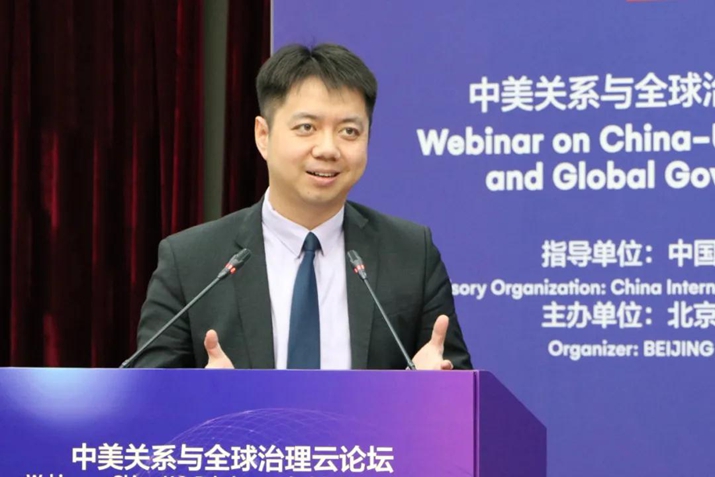 Wang Wen, Executive Dean of Chongyang Institute for Financial Studies, Renmin University of China addresses the webinar on China-U.S. relations and global governance in Beijing on March 12. [Photo courtesy of Beijing Review]
According to Walker, the trade war initiated by the U.S. on China has been a loss, which the economists have all said from day one. The trade war has resulted in a roughly half-point drop in GDP growth for both countries. "The economists would have always been right in the sense that free trade is the ultimate model in terms of the talent flows," he said.
Wang Huiyao also shared his suggestions on areas of collaboration, such as COVID-19 response, climate cooperation, debt alleviation of the least developed countries and reform of the World Trade Organization.
Under Biden's administration, China and the U.S. can start dialogue on entry into the Comprehensive and Progressive Agreement for Trans-Pacific Partnership (CPTPP), the trade agreement among 11 countries. The U.S. pulled out of the original agreement from which the CPTPP evolved, the Trans-Pacific Partnership, under Donald Trump. They now could explore the possibility of joining the CPTPP together, Wang of CCG said.
The two countries can also restart negotiations on their bilateral investment treaty, which were launched in 2008 but were later suspended, he added.
As a professor with Tsinghua University, Dunham said he also hopes that the two countries will strengthen communication and coordination in the field of education.
Wang Yiwei, Director of the Institute of International Affairs at Renmin University of China, said as the interests of the two sides are deeply intertwined, the possible future for China-U.S. relations is never decoupling, but interdependence.
Wang Wen, Executive Dean of Chongyang Institute for Financial Studies at Renmin University, said competition between China and the U.S. is not necessarily a bad thing.
China has been facing competition squarely. It has been embracing the international competition, re-understanding the world through competition, learning from its competitors, catching up with them in some sectors and making progress together with others in other fields, he said.
According to him, China is pursuing a path of healthy competition with major powers. It is competing to see which country can better meet the people's ever-growing needs for a better life and can provide experience to other developing countries.
The competition can also focus on building stronger capability to organize and promote bilateral and multilateral cooperation, to help boost vaccination coverage and to realize economic recovery, technological innovation as well as poverty alleviation in the post-pandemic era.
Please Find us: Twitter: RDCYINST YouTube: RealRDCY LinkedIn: 人大重阳RDCY Facebook: RDCYINST Instagram: rdcyinst