In 2021, the Communist Party of China is celebrating its centennial. On August 25, a webinar entitled "The Chinese Communist Party: 100-year trajectory", co-organized by the Chinese Embassy in Mexico and EL Colegio de Mexico (COMEXI), was successfully held. Wang Huijun, Charge d'Affaires and Minister Counselor of Chinese Embassy in Mexico; Wang Wen, Executive Dean of Chongyang Institute for Financial Studies of Renmin University of China (RDCY); Song Junying, Director and Associate Research Fellow in the Department for Latin American and Caribbean Studies at China Institute of International Studies(CIIS); Mariana Escalante, Professor at Universidad Autonoma de Mexico; Eduardo Tzili-Apango, Associate professor at Universidad Autonoma Metropolitana participated. The conference was moderated by Marisela Connelly, Professor and researcher at the Center of Studies from Asia and Africa of EL Colegio de Mexico.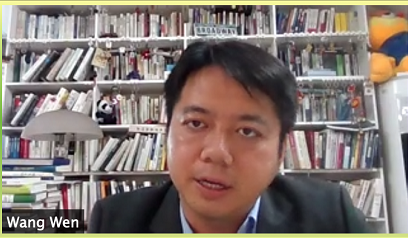 As the author of the research report of "The Global Significance of the Centenary of the Communist Party of China", Dean Wang Wen of RDCY was invited to attend and deliver a speech. He expressed the significance of the CPC's centennial from a global perspective. First, from the viewpoint of the evolution of civilization, the 100th anniversary is a continuation of the progressive logic of humanity. Second, from the viewpoint of national development, the 100th anniversary of the CPC offers an optional promising path of development that other developing countries can learn from. Third, from the viewpoint of political party organizations, the 100th anniversary of the CPC has promoted a breakthrough and theoretical innovation in political party systems all over the world.
Scholars at the conference spoke highly of the brilliant achievements made in the centennial history of the CPC and expressed the international community's understanding of the CPC's century-long struggle to change the historical destiny of the Chinese nation and profoundly influence the direction of world historical development, respectively.
In addition, the participants also exchanged views on 5G, China's response to climate change, the Chineseization of Marxism, and the influence of traditional Chinese culture on the ruling philosophy of the CPC.
Please Find us: Twitter: RDCYINST YouTube: RealRDCY LinkedIn: 人大重阳RDCY Facebook: RDCYINST Instagram: rdcyinst