On the occasion of 50 years establishment of bilateral relations between China and Iran, a webinar entitled "Iran-China Roundtable: 50 years of bilateral relations" was successfully held on August 25, 2021, which was co-organized by the Institute for Political and International Studies (IPIS), Chongyang Institute for Financial Studies at Renmin University of China (RDCY) , Taihe Institute and China Institutes of Contemporary International. Chang Hua, China's Ambassador to Iran; Mohammad Keshavarz zadeh, Iran's Ambassador to China and Seyyed Kazem Sajjadpour, President of IPIS attened and delivered opening remarks, and more than 10 Chinese and Iranian scholars participated in this webinar.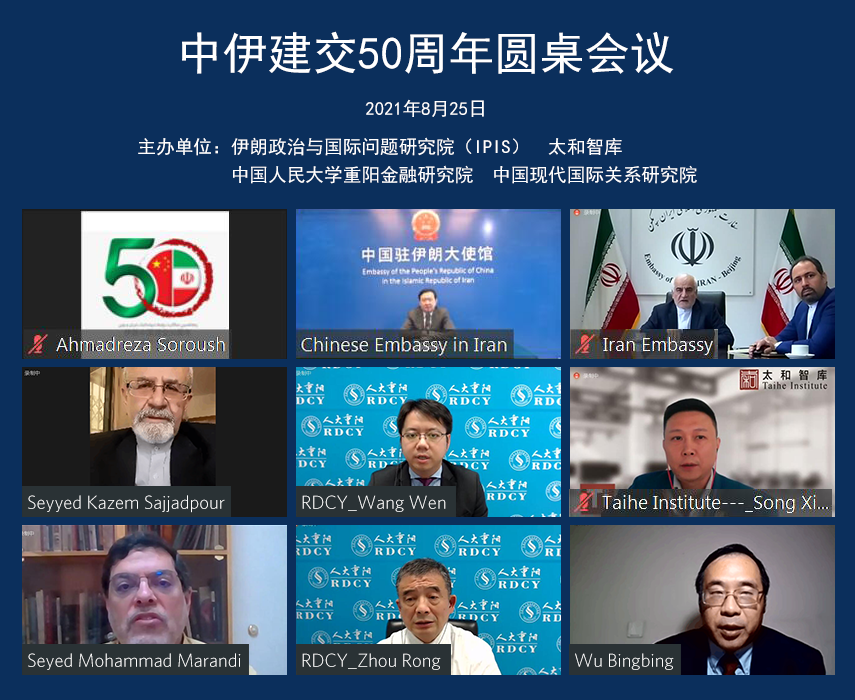 As the Chinese-led think tank of the Chinese-Iranian government-academic joint construction of the Belt and Road Initiative (BRI), Wang Wen, Executive Dean of RDCY, was invited to attend and deliver a speech. From the perspectives of multilateral cooperation, end of American hegemony and the strategic needs between China and Iran, he suggested that both countries should accelerate the implementation of the strategic cooperation between the Chinese and Iranian governments, and better link the strategy of Iran's "Look East" with China's BRI. Practical cooperation on think tanks, publications and overseas students also should be enhanced.
The webinar was divided into two panels: Overview of Bilateral Relations Over the Past 50 Years and Iran-China Outlook on the International Developments, and Iran-China 25-year Comprehensive Strategic Partnership Program.
Scholars at the conference pointed out since the establishment of China-Iran diplomatic ties 50 years ago, bilateral relations have stood the test of international changes, with the friendship between the people of the two countries growing ever stronger. The two sides have maintained close communication and enhanced strategic mutual trust in tackling global warming, jointly fighting the epidemic, jointly building the Belt and Road Initiative, and opposing unilateralism, hegemonism and external interference. These two countries should continue to support each other on issues related to their core interests and major concerns.
Majid Ghafelebashi, Vice-President for Research from IPIS; Mohsen Shariati Nia, Professor of Shahid Beheshti University, Tehran; Song Xiaofeng, Secretary-General of Taihe Institute; Seyed Mohammad Marandi, Professor of University of Tehran; Zhou Rong, Senior Fellow of RDCY; Wu Bingbing, Director of Middle East Studies Center, Peking University; Gholam Ali Chegnizadeh, Professor, Allameh Tabatabaei University; Qin Tian, Deputy Director and Associate Research Professor of Institute of Middle East Studies of China Institutes of Contemporary International and Gholam ali Khoshro, Senior Research Fellow of IPIS also joined in the discussion.
Please Find us: Twitter: RDCYINST YouTube: RealRDCY LinkedIn: 人大重阳RDCY Facebook: RDCYINST Instagram: rdcyinst